The Dark System
Part 3: The Metamorphosis




He Gang, the group leader who Xie was warned about, was a small, lanky man with furtive eyes. Xie first got to know him when he beat up one of his friends.
It happened late one evening when Xie, Sun and a few others were sitting in their dormitory talking. After a time, He Gang and some other supervisors walked in, prompting Xie and the other prisoners to immediately stand at attention. Sun, though, remained seated on the edge of his bed.
The following account is based on corroborating testimony from Sun and Xie, who spoke independently of one another.
He Gang marched straight up to Sun.
"You're disobedient," he roared. "You're not following the rules."
"I'm just sitting here," Sun answered. "What's it to you?"
He Gang sent the other prisoners out of the room. He and his men then surrounded Sun and began pummeling him until he fell to the ground. Then they kicked him from all sides.

The group leaders called this type of torture weiqi. Like in the popular Chinese board game Go, a player defeats his opponent by surrounding him.
Outside in the hall, Xie said he could hear the dull thud of boots against flesh. He would have liked to help his friend, but he said he knew that doing so would only have made their problems worse.
He Gang and his men kicked Sun until he was nearly unconscious. Then they left the room without a word.
Xie and the others laid Sun on his bed. He was bleeding from his mouth and his body was covered in bruises. The worst part, Sun would later recall, was the pain in his hip. It was so bad that he could hardly move for weeks. And it has never disappeared completely.
Sun didn't go to work for a week and the supervisors left him alone during that time. No one spoke a word about what had happened. Not even Sun.
But he did promise himself one thing: He would never, ever bow down to He Gang. "If I'm weak, he'll only get stronger," he thought. "But if I'm strong, he'll become weaker."


In the ensuing weeks, Li, Xie and Sun spent a lot of time together. They got along well and helped each other. Soon, each of them fell into a specific role.
Li's strength was coming up with new ideas. He could find a solution in even the most difficult situations.
Xie, for his part, was good at networking. He became friends with a prisoner whose job it was to sort prisoners' files for the police. As such, Xie and his friends were always well-informed about any camp newcomers and why they were there. They knew who they could trust and who they should avoid.
Sun became their protector. Ever since the guards assaulted him in the dormitory, he had grown more aggressive and defiant. He continued to receive beatings, but he also managed to dish out a few punches to group leaders himself. That led some supervisors to go out of their way to avoid him, a situation from which Xie and Li also profited.
The company of his two friends made Xie's time in the prison camp slightly more bearable. But he still spent many nights lying awake in bed, plagued as he was by severe headaches.
Xie spent many of those waking hours thinking about his wife. She was overwhelmed by having to do everything on her own in the factory and some customers had already begun canceling their orders.

Outside the prison windows, somewhere in the mountains to the west, a cuckoo sang. Xie tried to focus on its melody, but he couldn't concentrate. The DIY tear-off calendar he had made still had many pages to go.


The harassment He Gang dished out grew worse over time, with Li saying the group leader often behaved like a king. On one occasion, he ordered some inmates to bring him a bowl of hot water so that he could shower. On another, he had prisoners wash his feet. He would also order prisoners to wash and fold his clothes. Those trying to ingratiate themselves with him would even make his bed.
He Gang would also regularly call for Li, once ordering him to do his laundry. Li obeyed, but he made a point of doing a poor job. Afterward, Li said: "I'm not sure how to do it properly." He Gang tried one more time but then gave up. Li was pleased with his small triumph, but he knew the group leader would not forget the incident.
In addition to He Gang, there was another group leader who made the prisoners' lives hell. He was a brawny man who stood around 1.8 meters tall (5'9") and used to work as a bouncer at a bordello. His name was Zhan Bai.
There was a small kiosk in the Xishanping courtyard where prisoners could buy basic necessities like instant noodles, pickled vegetables, crackers, toothbrushes, towels, soap and cigarettes. They paid with cards that their relatives could put money on whenever they came to visit.
The store was run by the police officers' wives, according to Xie and another prisoner. Many of the goods were thrice as expensive as normal and often, the women would demand even more than the inflated prices posted. Those who could afford to shopped there anyway; food rations in the camp weren't filling enough.
Zhan Bai would regularly come to Li and take his money card. When he gave it back to him later, most of the money would be gone, Li says. Some of the prisoners alleged that Zhan Bai was giving the money to the police. After all, to become group leader, it could cost up to 20,000 yuan, the equivalent of around 2,000 euros.


One afternoon, Li was sitting on the floor of the cafeteria with several other inmates, eating a bowl of watery cabbage. When he risked looking up, he noticed that the windows - even on the third floor - were barred. This struck him as odd given that no one could escape from this high up.
After his meal, Li approached another prisoner who had been in the camp for a long time and asked him about the windows. The man looked at Li somberly. Hadn't Li ever wondered why the prisoners were required to keep an eye on each other at night, the prisoner asked?
Li didn't understand what the man was trying to tell him.
The bars were there so that no one could jump from the windows, the man said. A number of prisoners, he said, had jumped to their deaths because they could no longer stand being locked up in Xishanping.
Li thought of his wife, his son, his daughter and his aging father. He thought about how much they depended on him, how much they needed him. He resolved to protect himself better.
There are, in fact, numerous reports of deaths in prison camps. Amnesty International has reported that some camps even had quotas that permitted supervisors to torture a certain number of prisoners to death each month without having to fear the consequences.
One well-documented death in Xishanping took place about nine months before Li's arrest. On Jan. 28, 2009, a 66-year-old retired tax collector named Jiang Xiqing died under unknown circumstances. He was a member of the religious group Falun Gong.
The camp's directors listed a heart attack as the cause of death, but Amnesty International reported that medical examiners had discovered evidence of blunt force trauma to his chest and three broken ribs. The injuries suggested the man had been tortured to death rather than succumbing to a heart attack.
During Li's incarceration, at least one other prisoner in another section of Xishanping died. Wang Shangcai, Li's younger cousin who was in the same section as the dead man, claims to have seen the corpse.
The man who lost his life was a 50-year-old named Bei Pan*, Wang says, the single father of a 7-year-old daughter when he was arrested. When Bei disappeared into the camp, there was no one left to take care of his daughter and Bei was afraid his daughter would starve.
He had begged the police to look after the girl, but they weren't interested in helping. Ultimately, Bei apparently gave in to desperation and a crushing feeling of guilt and took his own life.


It was just a small chance, but Li didn't want to let it go unexplored. He had learned that a distant acquaintance of his worked in the Xishanping administration. The wife of one of his friends was apparently friends with one of the police officers. When his wife Huang visited him the next week, he asked her to speak with his friend's wife. Perhaps she could put in a good word for him with the officer.
Shortly thereafter, a group leader brought Li to a roughly 40-year-old police officer. The official wanted to know why Li was at the camp and when Li told him his story, the officer nodded. "I don't have much influence," he said. "But I'll try to help you."
Xie also sought to protect himself. A friend of a friend was a police officer and Xie asked his wife to bribe him. Not long later, the officer called Xishanping and asked them to protect Xie. It bothered Xie that his money was flowing into the corrupt state, but his security was more important to him.
Sun, meanwhile, continued to rely on the deterrent effect of his own fists. When he was yelled at, he yelled back. When he was hit, he hit back. He practiced withstanding even severe pain and swore to himself never to show He Gang any weakness.



There was a poor farmer who worked in the factory, a man who lacked the connections to guarantee an extra layer of security and lacked the money to buy himself extra rations. The guards tormented him constantly, often forcing him to work until midnight. He was emaciated and desperate. Prisoners like him were called Sizhu, or "dead pig."
One day the farmer came to Li. "The guards respect you because you know how to solder," he said. "Please protect me. In return, I'll carry your water for your Sunday shower." Li sent the man away. Looking after himself was difficult enough. "Serve your group leaders," Li advised him. "That'll protect you more."
Shortly thereafter, the farmer disappeared and didn't reappear until a month later. He had lost a lot of weight, his teeth had yellowed and he stank like an animal. Li learned that the man had gotten into a fight with one of the supervisors and, as a punishment, had been forced to spend 30 days in solitary confinement. Li felt ashamed that he hadn't tried to help the man.


Thanks to Li's police friend, life in Xishanping soon became a bit more tolerable. The officer regularly checked in and asked whether the group leaders were treating him relatively well, Li says. Now and then, he would lend a small electric hot plate to Li, a godsend for the prisoner and his two friends.
Whenever they had the hot plate, the trio would meet in Xie's and Sun's room and cook an extra meal together. They usually bought pickled vegetables or sauerkraut at the kiosk run by the policemen's wives and fried it in oil. They shared the food and their anxieties with one another.
Li, for his part, wondered what kind of world he would find upon leaving Xishanping. The China he had believed in for so long was a lie. What was the country really like?
Xie told them about the textile factory he founded with his wife 20 years ago and which meant much more to him than just a source of wealth.
Xie had spent his youth in the countryside, in a village that was largely cut off, with no properly maintained roads leading there. His parents had run a small grocery store in the village, buying their goods in the next larger city and carrying them on their backs for several kilometers over the mountains.
His parents worked hard so that at least one of their children could attend university. They chose Xie. When he was an adult, he moved to the city of Fulin to study traditional Chinese painting before working as an itinerant laborer for a time after graduation. He then moved to Chongqing, took out a loan of 7,000 yuan and built his own textile company. Business was good, the company expanded rapidly and Xie felt free, in control of his life and proud.
Now, here he was in a prison camp and his textile factory was closed down. His wife hadn't been able to handle everything on her own and had been forced to lay off their roughly 50 employees from one day to the next.
Xie was ashamed for the dishonor he had brought upon his entire family. And he was concerned about how he would pay his business partners. He still owed them money, but his savings were nearly gone. Who was taking care of his wife and daughter? How were they supposed to feed themselves?
Sun often talked about his tractor trailer, which was still parked in the lot of the last customer he had delivered to.
One time, Li and Xie found their friend in a pensive mood. Sun began to talk about 1997, perhaps the best year of his life. He and his wife Ma* had just gotten married and opened an ice cream factory.
During the first summer, it had rained a lot and hardly anyone bought their ice cream. The second summer, it was too cold. With the factory on the verge of bankruptcy, Sun went to a Feng Shui master who told him that in the years of their births, there had been a shortage of the element water. It wasn't their destiny to earn money with an ice cream factory, the master told Sun.
Ma frequently blamed Sun for the failure of their business. She was from a wealthy family and was accustomed to success. Sun felt inferior, though he didn't show it. Instead, he ordered Ma around. Their fights steadily grew more intense until Ma ultimately threatened to divorce Sun.
"If that's what you want, then go ahead," he said spitefully.
Sun told his friends that his life only went downhill from there. Without the divorce, he never would have become a truck driver. And had he not become a truck driver, he never would have landed in a prison camp. He was concerned that his son would forget him. He hadn't visited him once in Xishanping.


On Jan. 21, 2010, Chongqing's intermediate court dismissed Li's appeal against his labor camp sentence. There was sufficient evidence that Li and his cousins had disturbed the social order, according to the court ruling, which was provided to his wife Huang Guoyu.
That spring, a demolition crew showed up in Shuanghe Liushe. Men with heavy machinery destroyed the external wall and the roof of Li's old farmhouse. When they were finished, one of them pulled out a stencil and a can of red spray paint and scrawled a symbol near the front door.
"This house is slated for demolition," it read.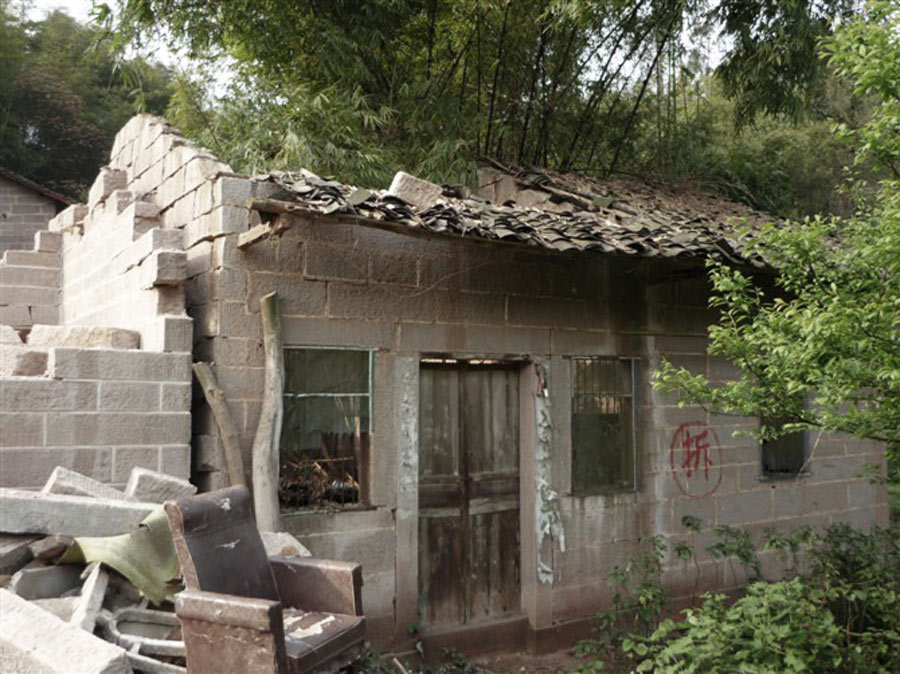 When Huang Guoyu and the children returned home that day, they found the house in ruins. They waited for Li's father, gathered their most important belongings and drove to Li's small electronics shop. There, they set up a new, provisional home.
Huang says she never felt more powerless in her entire life than during this period. First, the state came and took away her husband. Then it came and took away their house. The electronics store had no more customers, since only Li was able to repair their appliances, and the family's savings were dwindling. The children cried because they missed their father and Li's own father was becoming increasingly withdrawn.
Huang herself nearly had a breakdown amid all the sadness and bitterness, but she had no time for such feelings. The old man, the children, her husband: Everyone was depending on her. It was up to her to pick up the slack in the family that Li had left behind.
Huang filed an appeal against the intermediate court's verdict. The high court in Chongqing set an appointment for June.


Huang went to visit her husband every two weeks. Since she didn't have a driver's license, she had to hire a car and a driver, she says. Huang often asked her daughter if she wanted to come along, but Li Shuiting always turned her down, afraid that she would burst into tears once she saw her father.
The drive to Xishanping and back took six hours, though Huang was only permitted to see her husband for 10 minutes. A supervisor would lead Huang into a room that was divided in two by a large pane of glass, with chairs on either side. Li had to sit with a guard standing behind him while Huang took her seat on the other side. The glass was soundproof, so they could only communicate through a telephone and the guard could hear every word of their conversation.
It pained Huang to see her husband in such a state, emaciated and bearded, unkempt and with a shaved head. But she tried not to let her feelings show.
Whenever Huang drove to Xishanping, she put more money on Li's card. Sometimes Li refused her. "I'm not here for enjoyment," he would say. "Save the money for home."
He told her nothing of the group leaders who regularly robbed him of the money on his card.
Huang told Li about their house being demolished. She told him that she, his father and the children now lived at the electronics store.
Li felt like a lamb being led to slaughter. But he tried not to let it show.
Xie, too, received regular visits from his wife. He could have told her about the headaches that were now plaguing him almost daily, of the sleepless nights or of the piercing pains he had in his stomach area. Instead, he preferred to talk business.
After the bankruptcy of their factory, Xie's wife had to borrow a lot of money to make ends meet. Ultimately, the family even had to sell their luxury apartment in Chongqing. And they needed to discuss it.
"That was the moment when I realized there is no such thing as security in China," Xie says today. "It doesn't matter what class you belong to, or how rich you are, you could lose it all at any time. We live in a dark system. We live in permanent insecurity."
Sun's family came to visit him only once. It was shortly after the Chinese New Year, and his oldest brother came to Xishanping. Sun's father didn't even know he was in a prison camp. Sun's brother had told him that he was off on a long work trip with his truck.


Xie had already been forced to stand at attention the entire day. First, he had to stand for hours between the factory and the dormitories and watch as the other prisoners walked past him. Then he stood in the cafeteria against a wall and watched as the others ate. Now, in the evening, Xie was standing in the hallway leading to the dorm rooms and watching as the others went to bed.
He had almost always managed to avoid provoking trouble with the group leaders. But he lost his temper that morning.
Earlier that day, the group leaders had once again beaten up his friend Sun until he collapsed, making Xie feel miserable. Yet again, he had been unable to help his friend.
He thought of the closed factory, of the apartment that had to be sold, of the expensive razor that they had stolen from him. He had never felt this powerless in his life.
During roll call, the prisoners were forced to sing Communist Party songs.
Xie didn't sing anymore.
Suddenly someone hit him on the head from behind. Xie turned around and saw Zhan Bai. The group leader ordered him to start singing again, but Xie refused. Their fighting grew louder and they were close to blows when other prisoners got between them.
As punishment for his disobedience, Xie was condemned to stand at attention for the entire day. Which is how he found himself standing at attention in the dormitory hallway, tired and irate, his head pounding, while the other prisoners shuffled past him and tried their best not to notice him.
"When you're a dragon, you're not allowed to fly," Xie thought. "When you're a tiger, you're not allowed to jump." His life would never again be what it was. For him, the Chinese dream had vanished.


Sun could hear their steps in the hallway as they approached. He had suspected as much. This time he had taken it too far.
For three straight days, He Gang had raised his work quota, Sun recalls.
"Wangba gaozi," he growled at He Gang. "You son of a bitch."
He Gang yanked away the stool Sun had been sitting on. Sun slammed onto the floor and jumped back up to his feet, furiously charging He Gang. He punched him twice in the collarbone as hard as he could.
During the day, the group leaders had left Sun alone. But now, late in the evening, they came for him. They surrounded him and ordered the other prisoners to leave the room.
There were eight of them.
"Weiqi," Sun thought.
The guards restrained Sun and began punching him until he fell to the floor. Then they kicked him as hard as they could on all sides of his body. Sun held his arms in front of his face and curled up to protect his organs.
The men didn't stop assaulting Sun until he could no longer move from all the pain. Then they brought him into the building with the big iron door, where Sun had been brought when he first entered the prison camp.
The corridor with the solitary cells was located on the third floor. Two inmates who wanted to stay on He Gang's good side shoved Sun into one of the cells.


The room measured about 215 square feet. The only item inside was a bucket that served as the toilet and was only emptied once a week. The temperature in the cell was kept just a few degrees above zero and Sun immediately froze. The guards had only allowed him the clothes he was wearing: a long-sleeved undershirt, a button-down work shirt, a blue prison camp jacket, thin fabric pants and a pair of wool slippers.
In front of the right-hand wall there was a yellow square, about 50 centimeters on each side, painted on the ground. Every morning at 6 a.m., Sun had to enter the box and stand at attention with his back straight, his hands pressed against sides and his eyes locked on the wall in front of him. He wasn't allowed to lean against the wall or talk. The rest of the day was strictly scheduled.
From 6 to 8 a.m.: he had to stand at attention. Then came 10 minutes for breakfast.
From 8:10 to 9:30 a.m.: stand at attention. A 10-minute break.
From 9:40 to 11:30 a.m.: stand at attention. A two-hour midday break.
From 1:30 to 3 p.m.: stand at attention. Another 10-minute break.
From 3:10 to 6 p.m.: stand at attention. A half-hour for dinner.
From 6:30 to 10 p.m.: stand at attention. Bedtime.
Sun had to follow this cruel schedule for 30 days. Day in and day out, he stared at a wall. During his breaks, Sun was permitted to use the toilet bucket, walk around his room or sit down. Lying down was forbidden.
The cold crept inside him, his hands and feet grew numb. At night, when he laid down on the floor, he wrapped himself up in a damp, dirty sheet. He shivered so much that he often didn't fall asleep until the early morning.
A sense of repulsion festered inside him. His cell repulsed him, as did the sadistic treatment of the guards. The feeling infected him. He repulsed himself. The smell of urine and feces, which only got worse the more he filled his bucket. The stench of his clothes, which he wasn't allowed to change for 30 days. The itching of his body, which he was only allowed to wash sporadically. The fuzzy coating on his teeth, which he was not allowed to brush.
The hunger and the thirst grew constantly. For breakfast, he received two steamed bread rolls. For lunch and dinner, a small bowl of rice and some vegetables or soup. He was given a small plastic cup of water with every meal. Sun lost more and more weight. Ten kilograms, fifteen kilograms, maybe more. He says at some point he stopped feeling truly alive.
His mind raced as he stared at the gray, plastered wall, thinking about his sick father who didn't know he was in the prison camp. He thought about his son who hadn't visited him. He also thought, again and again, about the moment he divorced his wife.
In those endless hours in front of the gray wall, Sun practiced a special technique to keep himself mentally healthy. When he found himself in a downward spiral of negativity, he repeated the following mantra: "If I was free, something could happen to me. I could be shot or run over. In here, at least I'm safe."
He repeated this to himself over and over again, until he believed it.
Sun didn't always follow the rules. Instead of staring at the wall, he would walk around his cell. Or urinate in his bucket. As punishment, he would often be beaten or be forced to skip a meal. But then, he found a way to make his time in solitary confinement a bit more bearable.
The guard on the third floor wanted to avoid trouble at all costs. Before being brought to Xishanping, he had made a lot of money through illegal gambling. Once in the camp, it didn't take long for him to bribe the police officers and secure himself a relatively easy post. And he didn't want anything - or anyone - endangering his cushy setup.
Sun, though, was a troublemaker. So the guard made a deal with him. When no one was looking, Sun could move around his cell as he wished. In return, he had to obey when police officers came around. Sun agreed. Instead of having to stare at a wall for 12.5 hours, he would only have to do so for seven.
Once, on a cold winter morning, a ray of sunlight shone into his cell. Sun laid his dirty sheet in the sunbeam in order to dry it, if only a little bit. "I will make it through this," he told himself. "And when I'm free again, I will go to my son and be a better father."


When he was released from solitary confinement, Li and Xie say Sun looked like a savage. He was emaciated, his hair and beard were shaggy and his teeth were a dark shade of yellow. He also stank abominably and had a dead look in his eyes.
Sun thought no one would dare give him trouble after his ordeal in solitary. But after only a few days, He Gang smacked him with a book in the factory. Again, he complained that Sun's LAN ports weren't good enough.
Sun pushed He Gang against a wall. "I could make you disappear from this world anytime I wanted," he hissed. "I'll kill you at night with my toothbrush if you provoke me again."
From then on, He Gang left Sun alone.
A few weeks later, on April 16, 2010, the police officers summoned Sun. "You may pack your things," a guard said. Sun went back to his dormitory and said goodbye to his friends. Then he left Xishanping through the front gate. No one was there to pick him up.



Xie now knew where his constant headaches and stomachaches were coming from, and why he had become noticeably thinner in recent weeks.
In early May 2010, Xie recalls, he was brought to Xishanping's infirmary, where he was diagnosed with an inflamed gallbladder. The doctors, though, seemed grossly incompetent and the medical station was equipped with only the simplest of instruments.
Xie's physical condition worsened by the day. He could hardly sleep anymore at night and during the day, he spent countless hours staring at nothing. His body seemed incapable of feeling anything.
Then, another patient in Xie's room fell unconscious. Guards came in and carried the man out. They didn't say where they were bringing him and Xie never saw him again.
He thought it was very likely he would die in the prison camp if they didn't discharge him soon.

On July 1, 2010, two police officers came and brought Xie to Xishanping's front entrance, where his wife and daughter were waiting for him outside. Xie was so excited that he could say nothing at first. He took his daughter's hands in his and held them for a long time.
The family brought Xie to a proper hospital. Even there, it took more than three weeks for the doctors to get him back to full health.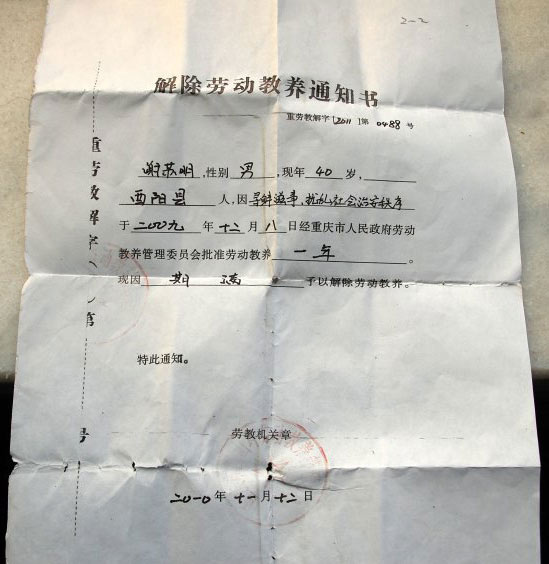 After his recovery, Xie was supposed to return to Xishanping; he wasn't scheduled for release until November. Instead, he drove home.
Then, in mid-November, Xie Sunming received a letter. In three short sentences, he was informed that his time in the Xishanping prison camp had officially come to an end.




In Part 2, read what happens to Li, Xie und Sun in the prison camp.
In Part 3, read how life in the prison camp changes Li, Xie and Sun.
In Part 4, read how Li, Xie und Sun seek to overcome the trauma of Xishanping.
Part 2: Torture and Forced Labor
Part 3: The Metamorphosis


Animations
Birk Reddehase
Fact checking
Mara Küpper
Copy editing
Christine Sommerschuh
Photo editing
Nasser Manouchehri
Video production
Roman Höfner
Motion Design
Ferdinand Kuchlmayr
Sounddesign
Birk Reddehase
Technical backend
Axel Bolz
Test Group
Matthias Kaufmann
Translation into English
Chris Cottrell
Translations from Chinese
Sebastien Armand
Additional picture material
Getty Images
Additional video material
Li Yiwen


The electrician Li Yiwen is an ardent supporter of the Chinese Communist Party. When the provincial government wants to tear down his house, Li demands a higher compensation and suddenly gets arrested. The hot-blooded truck driver Sun Yongda is detained, too, after a brawl with some corrupt security guards. The textile manufacturer Xie Sunming is also discharged from his appartment after posting a dissident commentary online. The three men are brought to the prison camp Xishan Ping without legal process.
The patriotic Yi Yiwen, hot-blooded Sun Yongda and business-minded Xie Sunming have been detained in the prison camp Xishanping for petty offences. They get to know each other and federalise against their guards who are torturing them with beatings, psychological coercion and depriviation of water. The inmates have to solder LAN ports for six days a week, up to 16 hours a day. Police officers also drill the rules oft he Communist Party into them. When Sun and the aggressive guard He Gang start to bicker, the situation escalates.
The three Chinese men Yi Yiwen, Sun Yongda and Xie Sunming have been enduring torture, forced labor and brainwashing in the Xishanping prison camp for months. The traumatic experience starts to change their personalities: The hot-blooded Sun dissociates from his feelings, after spending 30 days in solitary confinement. The rather apolitical Xie grows a bottomless hate against the government. The patriotic Li loses his belief in the Communist Party. When the three men are finally released from the prison camp, they realise that their old lives are gone.