The Dark System
Part 1: Arrested




Li never truly left the prison camp. He returns to it regularly in his sleep. Two dreams in particular keep coming back.
In the first one, Li Yiwen is squatting on the floor. In his left hand, he holds a bowl of rice, in his right, a pair of chopsticks. His eyes are locked on the floor as a guard stands behind him counting down from 10. Once he reaches zero, he'll tear the food out of Li's hands.
Li inhales as much hot rice as he possibly can. He can feel his esophagus burning, but he keeps shoveling.
A foggy reservoir is nestled between rice terraces and bamboo forests in the hills of central China, not far from Chongqing, one of the world's largest metropolises. This is where Li's hometown was once located. During their relocation, he and 52 of his neighbors felt they had been treated unfairly. When they objected to their local government, they were thrown into a prison camp.
Forty-one-years old, Li was himself once an employee of the state - a patriot, even. But then he was forced to leave the land of his ancestors, and all the illusions about China he had spent a lifetime cultivating collapsed instantly.

Since the founding of the People's Republic of China, an estimated 50 million people have been interned in prison camps, making it the largest system of forced labor, torture and brainwashing the world has ever known. At the height of the system, more than 1,000 facilities were alleged to have stretched across the entire country.
In November 2013, almost exactly five years ago, China's Communist Party officially abandoned the sinister sites. But in truth many of the old facilities still exist, often under a new name. It is believed that up to 1 million people are currently being interned in prison camps in the Chinese province of Xinjiang.
The facilities have one goal in particular: to break the will of the people who dare to imperil the almighty power of the state. In addition to criminals and drug addicts, dissidents of all stripes are also locked away in Chinese prison camps.
These include members of oppressed minorities like Tibetans and Uighurs, members of the Falun Gong school of meditation, members of underground Christian churches, civil rights advocates and activists. And then there are the simple citizens who stand up for themselves in the face of injustice.
This is the story of three of those people.
Li Yiwen, Xie Sunming and Sun Jongdae were imprisoned concurrently between 2009 and 2010 in the Xishanping prison camp, a so-called laojiao suo. Until recently, that was the name for the around 350 prison camps into which a person could suddenly be remanded - without trial and without a legally binding verdict. According to human rights organizations, the conditions in the laojiao were very similar to those in Xinjiang's prison camps.
We have been in regular contact with Li, Xie and Sun over the past six years, via text messages, telephone, Skype and multiple face-to-face conversations. Through them, we have tried to learn as much as possible about the conditions in Chinese prison camps and to observe what imprisonment does to people. How have their personalities changed? How have their families come to terms with everything that happened?
Each of our three main witnesses collected comprehensive documents about their time spent in the prison camp, allowing us to corroborate their statements with thousands of photos, documents and videos. In order to get as objective an impression as possible, we also interviewed the ex-prisoners' family members and friends in addition to personally visiting most of the places described in this story - including the Xishanping prison camp.
Many of the people in this story insisted that their real names be published. It was their explicit wish that their story be made public, even though such a thing can carry a strict penalty in China. Those who wanted to remain anonymous have an asterisk after their name. In order to protect their identity, we have altered some of their personal details. The management of Xishanping was approached for comment but never replied.


Gray fog billows in front of our windshield. It has swallowed up the motorboats on the adjacent reservoir and crawled through the bamboo and reeds, ultimately rising over an embankment and spilling onto the empty road that skirts the water and leads to what's left of Li's hometown.
Li slows down. He is a short, stocky man whose body is constantly tense. His round face contrasts sharply with the close-cropped hair that forms a black and almost level plateau on his head.
Li talks about growing up in his hometown Shuanghe Liushe. He speaks rapidly in a high-pitched voice. At moments when he is filled with pride, Li tilts back his head and juts out his chin.
The car passes an enormous billboard. "The completion of the Yutan Reservoir will benefit the people," it proclaims in red Chinese characters against a bright blue background. There was a time when Li believed such promises.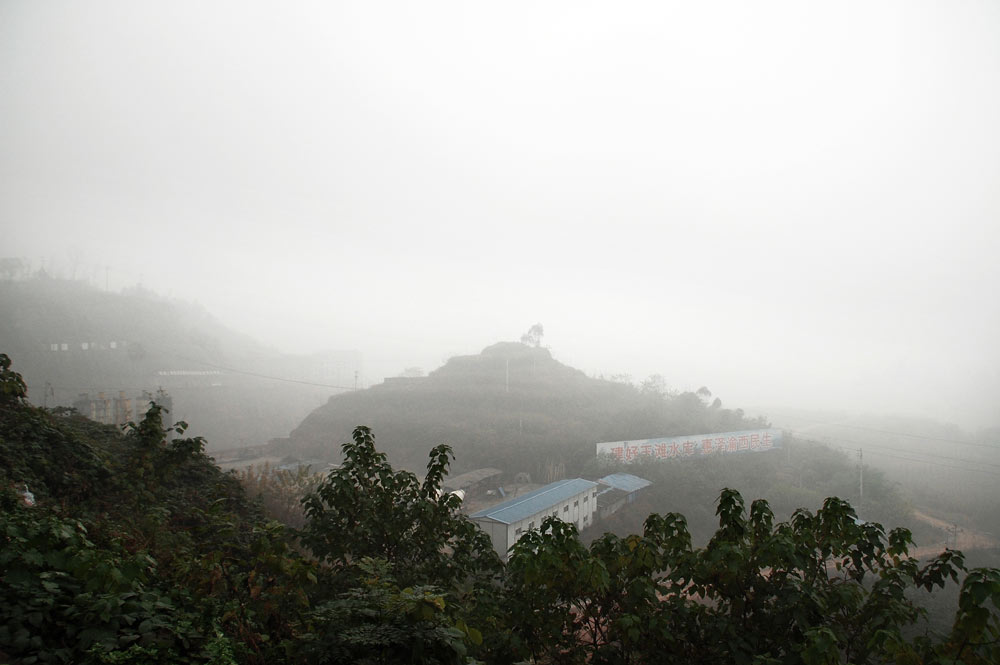 In his town's school, Li was taught the doctrines of the Communist Party. It was during the 1980s, a time of sweeping economic reforms under the guidance of Deng Xiaoping. Deng allocated land to the people for them to cultivate themselves. Collectivism was out and throughout the country, the doctrine of independence was spreading. It didn't take long for Deng's reforms to take hold and soon, hundreds of millions of people made the jump to the middle class.
It was an era of awakening, the opportunity for a new Communist Party. And Li Yiwen became an ardent follower.
During his military service, Li worked for the Wujing, a unit of China's special forces that deals with domestic security. His main assignment had been to act as a mediator between the people and the government. His instructors told him a police officer must always protect the people and never hurt them, a lesson that Li took to heart. He thought he was on the right side.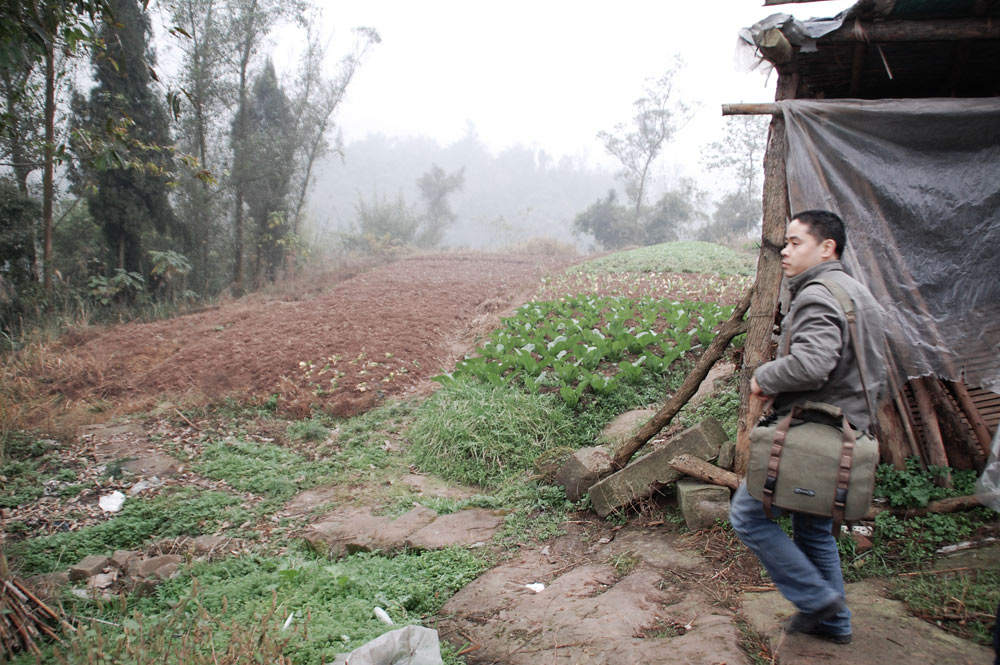 Li parks the car at the edge of an embankment. The dirt has a red tinge, the air is damp and smells of chamomile. Li motions for us to follow him and he scurries down a steep hillside covered in bamboo.
A weed-covered field lies at his feet. During his childhood, Li used to harvest peppers and eggplants here, or he would take care of the pigs. He began working at a young age and took on a lot of responsibility. He was only a year old when his mother died of cancer.
At the end of a field stands the crumbling farmhouse where Li grew up.


The ruin of the old farmhouse is located within the area of the reservoir. When it rains heavily, the kitchen and living room fill up with water. When rains are modest, like today, only the pig pen gets flooded.
Li points at the reservoir and says there used to be a plum tree down in the valley. He had planted it when his daughter was born, hoping to watch the tree grow in tandem with Li Shuiting. Father and daughter would then harvest its fruits together.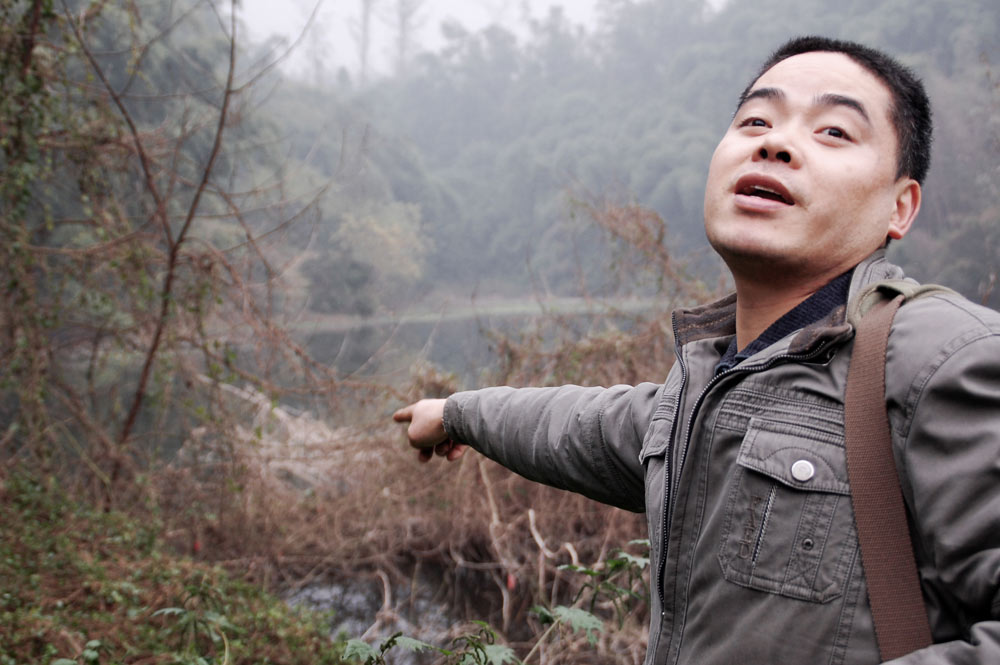 Li walks around to the other side of the house. Ivy covers the leaky roof and there are large holes in the exterior wall. Li closely examines every bit of damage. He then steels himself and steps over the door jam. It's the first time he has been here since his imprisonment.
The Yutan reservoir holds around 34.3 billion gallons of fresh water. Its construction was the reason Li's house was destroyed, though he wasn't alone; exactly 6,007 people had to be relocated, including the Li family and two of Li's cousins, Wang Shangcai und Wang Shangjin.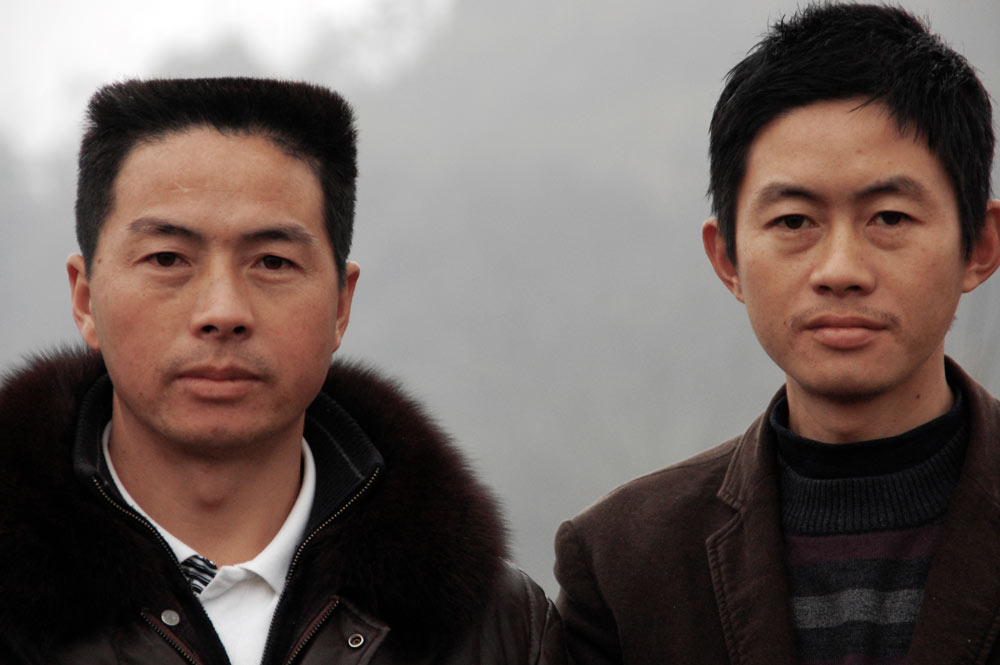 When the Li family learned that they would be relocated, they were outraged. Li's elderly father was particularly adamant about refusing to leave; he had spent his entire life in that house. Li was the only one who thought they shouldn't stand in the way of the government if it wanted to further China's development.
Li thought his family would receive reasonable compensation for the house they were losing. With the money, he intended to buy an apartment in the nearby city of Rongchang, where he had been running a small electronics store for several years. Not long later, Li received notice of how much his family would receive in compensation. He was extremely disappointed.
The total was around 120,000 yuan, or 15,000 euros. They would never be able to buy a new apartment with such a small sum of money. Li pored over official documents and did his own calculations - according to which, they should have received 255,000 yuan.
Li spearheaded a petition along with other neighbors who felt similarly shortchanged by the local government. The relocations, they wrote, violated rules and regulations that had been laid out by the central government. The rights of those affected to have a say in the relocations had been ignored, they noted, and contracts were not properly drawn up. The authorities, the petition insisted, had to obey the law.
At the bottom of the document, they wrote: "This is our will!!!!!!!!" With eight exclamation points. Fifty-three locals signed the petition with their thumb prints.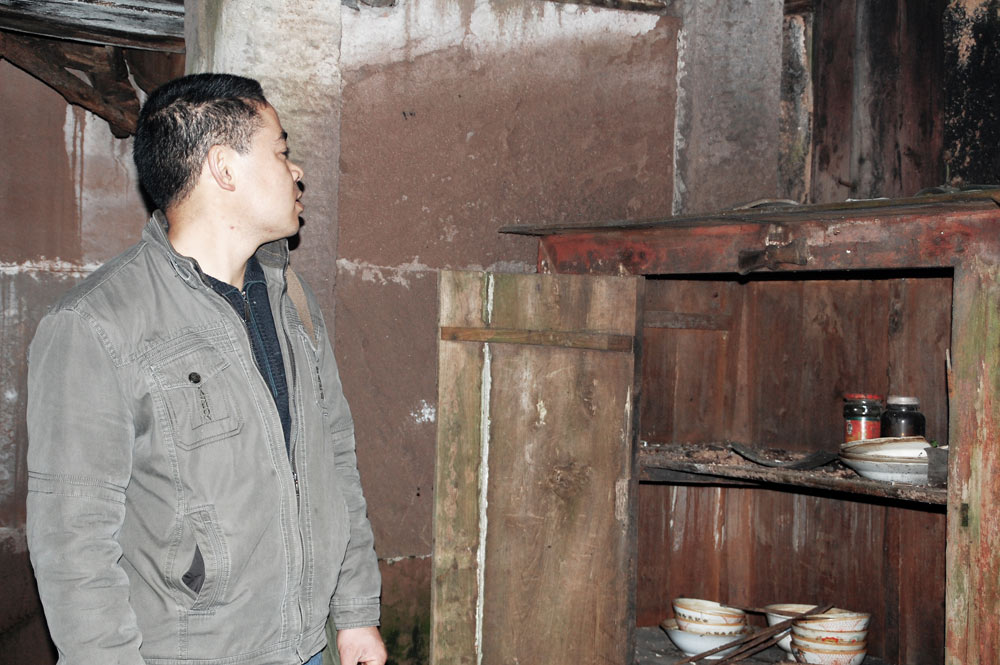 Back inside the parlor of the old farmhouse, the basket where Li once kept his rabbits is still there. Colorful porcelain bowls are stacked in a cabinet, collecting brown rain water. Li picks up a few bowls and wipes off the dust. He then walks over to the dinner table, grabs a ladle and places it in his satchel.
At the time of our visit, he and his wife along with their daughter and son were all sleeping in the electronics store on a king-size mattress. Li's father slept on a cot in the workshop among the broken appliances.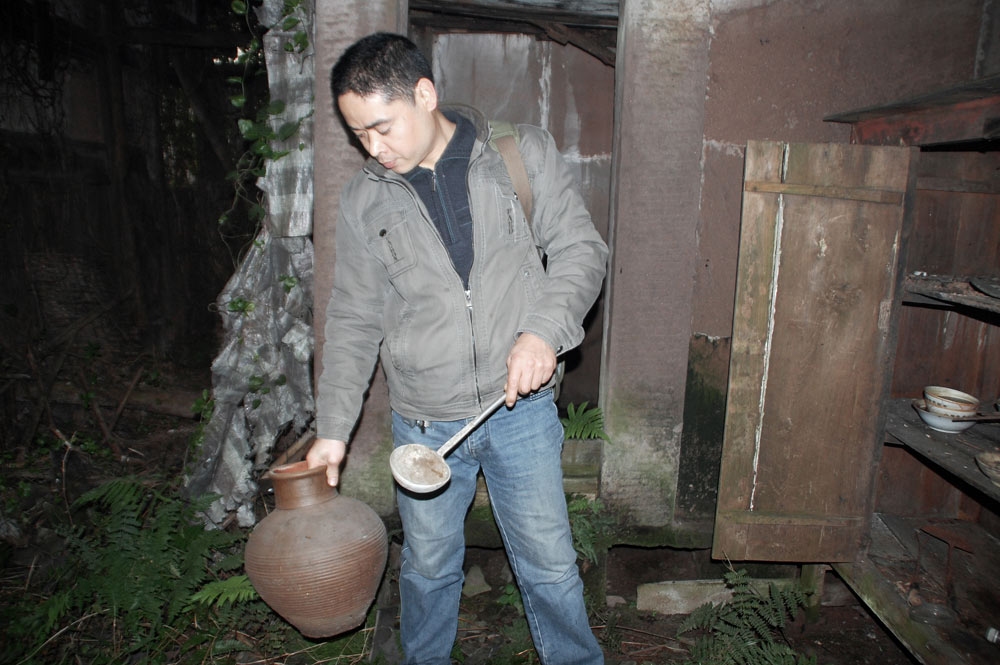 We ask Li how he's feeling.
"Chuangyi manmu", he answers. "Everything I see is in ruins."
On the morning of Oct. 29, 2009, a delegation from the town drove to Chongqing to file their petition to the appropriate government office. There, Li and his two cousins spoke for the entire group as someone else filmed the interaction, making it possible to reproduce the conversation word for word.
"You have to revise your guidelines for compensation," said Wang Shangjin. "We have to survive and eat." And Li asked the officials: "What happened to the rest of the money? Did you spend it on booze?"
The team of delegates from the town spent an hour talking with the officials. Then Li and the others were ushered out of the room.
A local politician would later say that the townspeople provoked a fight in a nearby diner after their failed negotiations. Li and the others, he claimed, had threatened to post their entire recording online and send their petition to the central government in Beijing. The group had exerted a "bad influence" on society and "seriously compromised" the reservoir project.
Li and his cousins have a different version of events. They say the police tried to provoke them, but they kept their cool.
It's impossible to know for sure which version is closest to the truth, but one thing is certain: Though the delegation had intended to take the bus back to Shuanghe Liushe that evening, they never arrived.


When Li didn't return that night to the farmhouse on the reservoir, Huang Guoyu knew something bad must have happened. She had expected the town delegation to have a difficult time, but she never thought her husband would simply disappear.
The next morning, Huang says, she began calling police stations in the region. "I was dizzy. I felt like I was going to faint at any moment."
Huang spent days looking for her husband and, ultimately, she found him. She learned that Li was in a jail cell at a police station in Dazu district, and on Nov. 16, 2009, she says, she drove there with a lawyer. She badly wanted to see Li, but by the time she got to the station, he was no longer there. He had been transported to the prison camp.
According to the police, Li had "instigated fights and provoked unrest." The lawyer wanted to appeal Li's incarceration, but Li hadn't been officially convicted of anything, Huang says. Initially, there weren't even any records of his arrest available - and it's impossible to go before a court to challenge a penalty that doesn't officially exist.
When she got home, Huang told the family what had happened to Li.




We meet Sun Jongdae* in a Beijing cafe full of Christmas decorations. Paper snowflakes are hanging on the walls and an Advent wreath adorns one table.
At 1.8 meters (5'9"), Sun is unusually tall and wiry for a Chinese man. His skin has a dark, almost orange tinge and his right canine tooth is crooked and chipped. His black leather jacket is a size too big, and he doesn't take it off for the entire duration of our conversation.
Sun keeps his answers to our questions short, and they become even shorter when he begins talking about the 30 days he spent in solitary confinement in the Xishanping prison camp, where he suffered from thirst, hunger and would shiver uncontrollably from the coldness.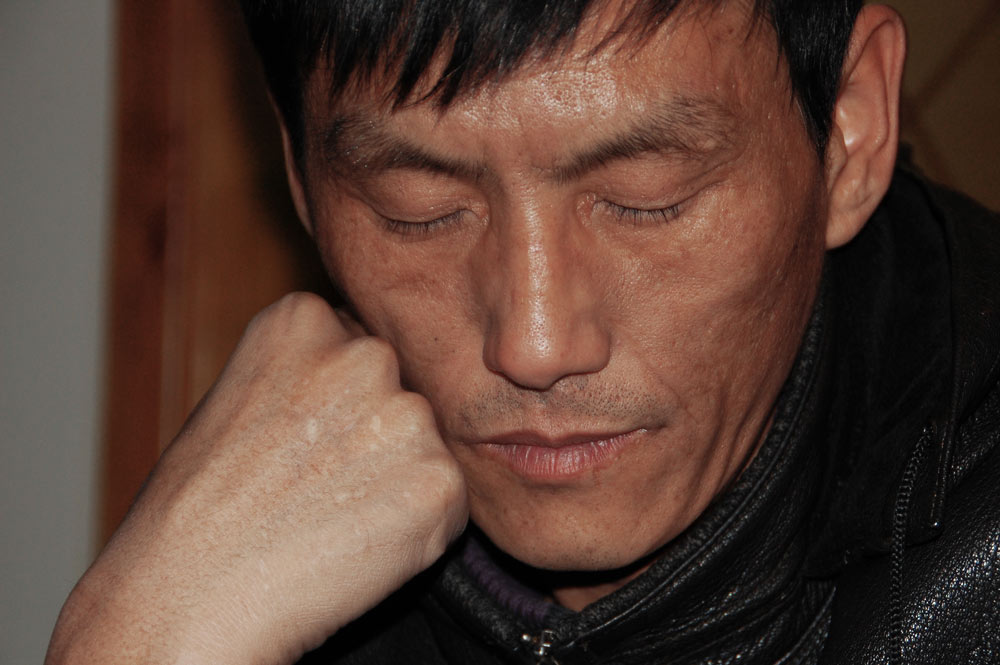 It was Sun's Mongolian dagger that got him into so much trouble - a 40-centimeter knife with a slightly curved blade, which he kept tucked away in the overhead storage of his truck cab on long trips. It was his protection against possible holdups.
On Nov. 3, 2009, Sun was scheduled to pick up a load of cars in the city of Chongqing. Sun says he had just left the parking lot of the shipping company when two men from the public order office stopped him, saying he had damaged the curb on his way out. They demanded 1,000 yuan as a penalty.
Sun insisted he hadn't caused any damage. The curb was fine, he said, there was just a black mark from his tires.
When he began to walk away, Sun says, the officers blocked his way and grabbed ahold of his clothes. Sun managed to break free by swinging his arms and fists and ran back to his truck. When he noticed the men had followed him, he pulled out his dagger. The men fled, but it wasn't long before the police showed up.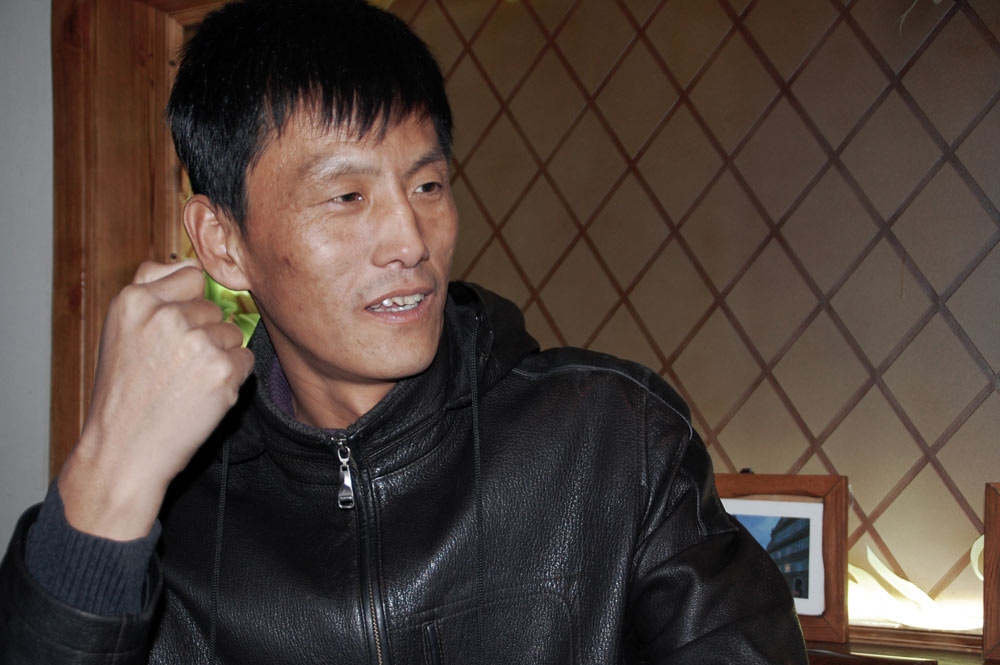 Sun is aware that he can sometimes be short-tempered, a characteristic that he believes comes from his origins. He grew up in a village in the northeastern-most corner of China, a region where men have a reputation for being hot-blooded.
Sun's upbringing is presumably a factor as well. His father was overbearing and always had the final say, even about who he was allowed to play with. At the age of 16, Sun had to drop out of school and take over his father's job in the civil forestry office. Sun's own vision for the future - what he wanted - was never a consideration, which perhaps helps explain why he gets angry so quickly when others give him orders.
The police confiscated his Mongolian dagger. Sun says he was only defending himself against corrupt public order officers, but he was arrested for the possession of an illegal weapon nonetheless.


We are sitting in the back room of a restaurant, together with Xie Sunming. He is wearing a tailored overcoat and a designer shirt, he's around 1.65 meters tall (5'4") and slim. His face is freshly shaven and freshly lotioned, the fingernails on his soft hands neatly trimmed.
Xie is talking about the beatings that he and the other prisoners were regularly subjected to, about the hunger and the thirst they had to endure, about the monotonous work in the factory, about the fear of death he felt when they transferred him to the infirmary at Xishanping. All these experiences were horrible, says Xie. But they were not the worst of what happened. "The thing I hated most about the prison camp was the loss of control."
Until the police arrested him, Xie wasn't really interested in politics. His life was centered around the textile factory he ran with his wife.
Xie and his wife made everything themselves. They designed their own patterns for pants, jackets, dresses and skirts and worked directly with hundreds of suppliers and customers, building a sales network that spanned the entire country. They even developed their own logo. Business was good, and they took in the equivalent of around 1.5 million euros ($1.7 million) in revenue a year. Before long, the couple was able to buy a condo in Chongqing's luxurious Jiangbei district and moved in with their daughter.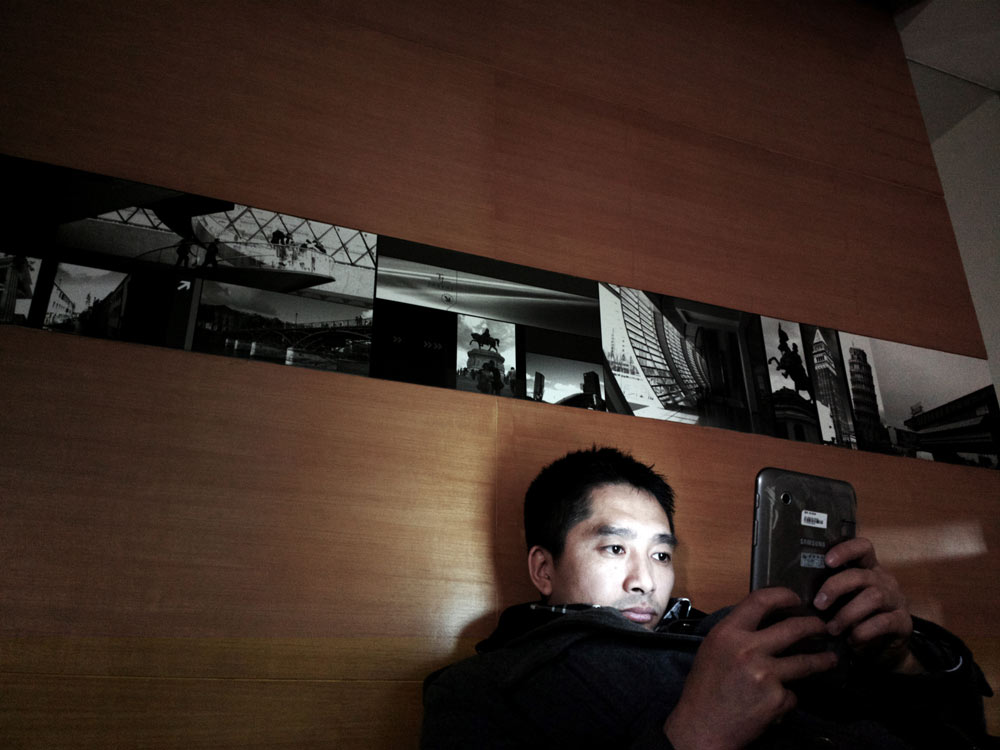 He had always been a typical child of China's economic miracle, Xie says. He can't remember what exactly drove him to leave a critical comment on the website Tianya.cn in October 2009.
The waiter, a friend of Xie's, brings tea and a carafe filled with water. He draws the curtains, tells us to call him if we need anything and closes the door behind him. Xie continues talking.

At around 4 p.m. on Nov. 13, 2009, four police officers rang Xie's doorbell. One of them held up a piece of paper. It read:

Did he write this, one policeman asked?
Xie hesitated, then nodded.
The page showed the comment that Xie had posted under an article the previous day on Tianya.cn. It contains a lot of wordplays, making it difficult to translate. Essentially, though, Xie called the mayor of Chongqing at the time, Wang Hongju, a "hypocrite" and speculated in a sarcastic tone whether he had engaged in cronyism with a company.
I used a pseudonym, Xie thought to himself. How did they discover my identity so quickly?
The police officers asked him not to touch anything in his apartment before quickly dismantling his computer. When Xie protested, they tried to placate him. Just a routine check, they assured Xie, nothing to worry about.
Then the police escorted Xie out of his apartment. On the stairs outside, they ran into Xie's wife, who was just coming home from work. She looked at Xie in horror. When Xie tried to explain to her what was going on, the officers interrupted him.
"Your husband just needs to come with us to the station to give a statement," said the officer who had already addressed Xie at the door. "He will be back by dinner time."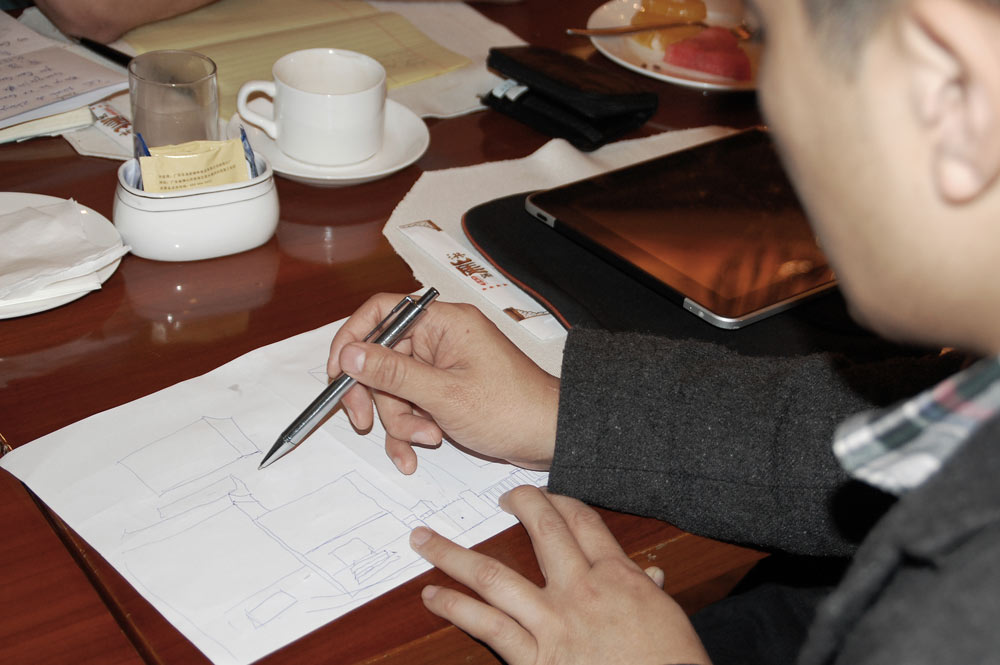 In the back room of the restaurant in Chongqing, Xie begins to draw the prison camp on a piece of paper. He sketches the courtyard where, for nearly nine months, he was forced to attend roll call every morning at 6 a.m. He draws the factory in which he says he had to work up to 14 hours a day. Lastly, he draws the calendar he secretly made for himself, from which he would tear a page every day in order to maintain a sense of his impending release.
When his artistic talents reach their limits, Xie picks up his iPad and looks online for photos of sleeping quarters, factories and laundry rooms that state media have apparently been permitted to use to write favorable articles about prison camps. Slowly, our image of the prison camp begins to crystallize.
After a time, Xie grabs another piece of paper and draws a rectangular room with a huge steel sleeping platform and packed full of people, around 50 in total. The drawing represents a kanshousuo, a pre-trial detention facility in which Xie was kept for nearly 30 days before being sent to the prison camp.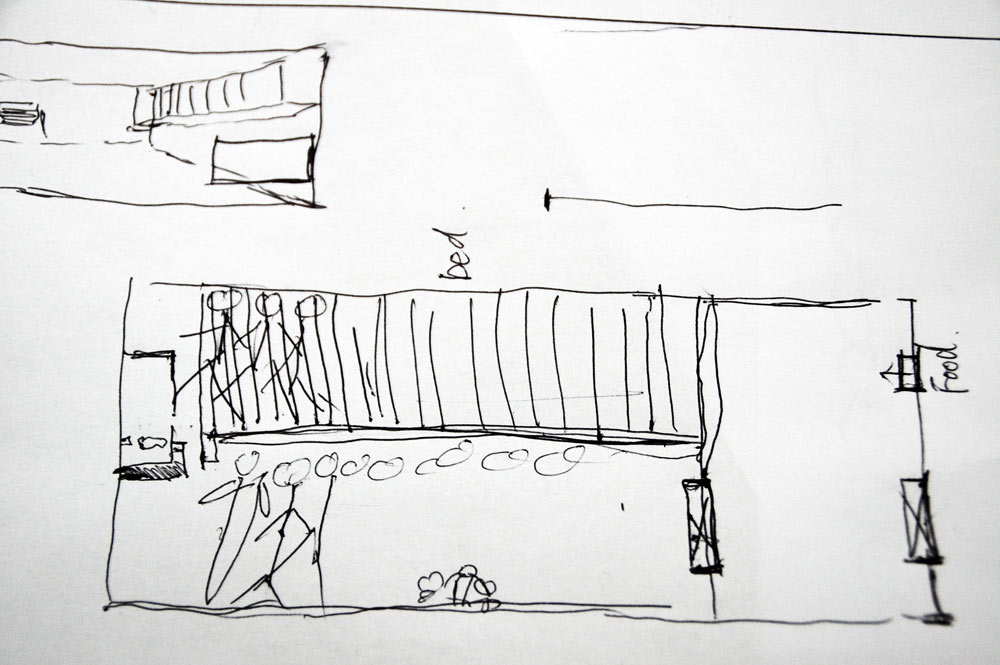 The conditions were extremely difficult in the holding cell, Xie explains. The room was so full that some people couldn't even lay down to rest. It also contained violent criminals, he says. And a bright ceiling light shone down on them 24 hours a day.
The German-founded organization International Society for Human Rights (ISHR) considers Xie's descriptions to be credible. Representatives of the organization say that pre-trial detention facilities in China - contrary to their name - often hold already convicted criminals, including some who have been sentenced to death.
Kanshousuo are mostly administered by local party officials and are only sporadically monitored by the state, according to ISHR. The result is often inhumane conditions.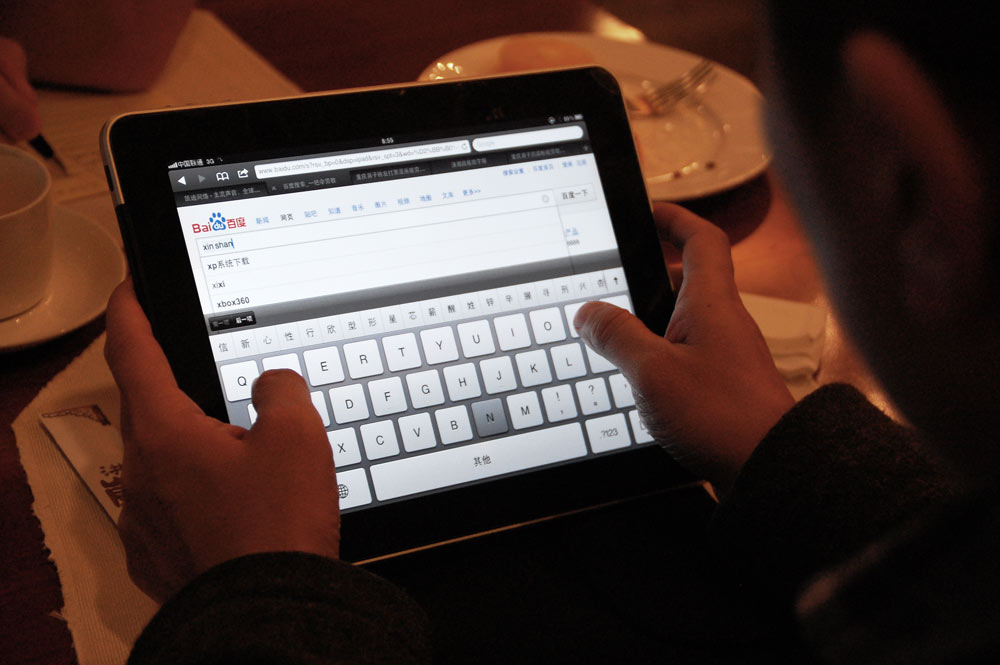 Xie says that the police who arrested him at his apartment soon stopped by the kanshousuo in order to interrogate him. Each time, he says, they asked the same two questions - and Xie always gave the same two answers:
- "Are you part of a conspiracy against the mayor?"
- "No."
- "Who is your leader?"
- "I don't have one."
On one occasion, they handcuffed him to the bars of a window, stood behind him so that he couldn't see them, and questioned him for two days straight, from morning till night.
"They asked me about every contact listed in my phone," Xie says. "The men wanted to know exactly who each person was, what my relationship to them was and whether they were involved in a conspiracy against the mayor."
Xie tried to be as cooperative as possible. He thought he had nothing to hide.

The comment Xie posted about Chongqing's former mayor is only 30 characters long. Xie didn't understand why they had arrested him for writing it. At that time, there had been a steady flow of critical stories about Wang Hongju, Xie says. Other people had criticized the politician much more extensively and aggressively.
The existence of prison camps is no secret in China, but media coverage of such places is strictly censored. As such, most Chinese people don't really know much about them. At the time, Xie was one of those people.
In early December 2009, the police gave him a form, he says. It read: "I am aware of the punishment of re-education through labor." He says he didn't know exactly what it meant at the time.
Xie signed.


In Part 2, read what happens to Li, Xie und Sun in the prison camp.
In Part 3, read how life in the prison camp changes Li, Xie and Sun.
In Part 4, read how Li, Xie und Sun seek to overcome the trauma of Xishanping.
Part 2: Torture and Forced Labor
Part 3: The Metamorphosis


Animations
Birk Reddehase
Fact checking
Mara Küpper
Copy editing
Christine Sommerschuh
Photo editing
Nasser Manouchehri
Video production
Roman Höfner
Motion Design
Ferdinand Kuchlmayr
Sounddesign
Birk Reddehase
Technical backend
Axel Bolz
Test Group
Matthias Kaufmann
Translation into English
Chris Cottrell
Translations from Chinese
Sebastien Armand
Additional picture material
Getty Images
Additional video material
Li Yiwen